Welsh Colleges Summer Tour
The
weather
forecast showed rain, thunderstorms, and the occasional plague of locusts, so it was with no surprise that I turned up in Bishops Lydeard to find it raining heavily. I'd stopped briefly on the way at
Stonehenge
, paid two quid to park there and had a look around the perimeter before realising you only get your two quid back if you pay to go in and look around it. I decided I was happy to pay two quid not to have to walk around in the rain, so contented myself with the roadside view before heading off. I'm sure it was more impressive, although further away from the road, when I visited it about fifteen years ago....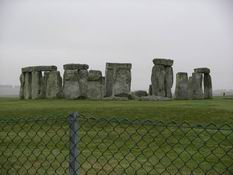 Stonehenge - sort of on the way
Ross turned up just after me and we went off looking for a pub in the rain, only to find the one we were meeting people in was shut. We found one soon enough and managed to sink a couple of pints before more people turned up and we headed up the tower to ring a reasonable
quarter
of Somerset Surprise Major.
The hall was one of the more basic places we've stayed in - there just about room to lay down, the kitchen consisted of a spoon and there was only the one toilet. Still, after a few pints it doesn't matter where you sleep, and you get bed and breakfast for a remarkably cheap price.
On last year's summer tour I'd found the cycling hard even though it was fairly flat, so I'd intended to get enough practice in for this year by cycling 1000 miles during the year before the tour. In typically not-getting-round-to-it style, I'd not cycled a metre in the whole year until we set off to the first tower on the Thursday morning. Although I felt pretty tired a lot of the time, I didn't do too badly, and only had to walk up the particularly steep hills. We went swimming in Taunton on the thursday evening for the chance to have a shower and relax in the pool.
On Friday morning the cycling was the hardest of tour, including several difficult steep hill which needed walking up. I only just arrived at the tower before lunch to have a quick ring before heading down the road to the pub. In the church yeard was a 3000 year old tree. I should have taken a photo of it, not that it looked any different from any other tree.
Tim & Kate organised a great BBQ at their house for us on the thursday night, and I was especially grateful that they let me use their shower!
The next day felt a bit longer to cycle, but was significantly flatter. It rained a lot though, so waterproofs were needed. Somehow my phone survived falling from my bike and landing in a puddle. The striking competition in the afternoon relieved the monotony of '"just another six'. We had a half harted attempt and ringing something strange, and due to this and the failure of most of the bend to set their bells, we came last. One exreme or the other, I say. The next tower provided us with tea and cake which was appreciated more than they could imagine. They seemed quite surprised that the other towers hadn't done the same!
Sunday morning meant getting up early to pack things away before heading our seperate ways, some of us off to Ditcheat to ring a
quarter peal
before heading home.