Friday, 28th April, 2006
---------------------------
Saturday, 15th April, 2006
Made it!

Forty posts in forty days! This period of lent accounts for almost a third of all the entries I've ever posted onto this site. It's been tricky thinking of something to post each day, and often I sit at home (not at work, of course....) trying to think of something to post for the last few days....

Of course, you can expect this website to return to its dormant state for the next few weeks while I take up again my practice of not blogging.....
---------------------------
Friday, 14th April, 2006
Almost there

I'm off to Becky's for a couple of days, so this, and especially tomorrow's entry may not get posted until Sunday. Am back in St Albanscestershire for Sunday lunch and Monday. Maybe I'll do something on Monday worth blogging about? Maybe we'll never know....

PS... As it happens the room I'm staying in has a PC with a network connection :)
---------------------------
Thursday, 13th April, 2006
An interesting case is
Brian Peppers
. Not because he looks hideous, or because of the
internet's obsession
with him, or even because being a 'paedophile' makes him the modern day equivalent of a witch, in that even debating his rights as a human being is a taboo, but because of the
debate
over whether he should have a
Wikipedia
entry could be, imho, a landmark case.
---------------------------
Wednesday, 12th April, 2006
I cooked a lasagne tonight for the first time, mainly using inspiration to make the bolognese sauce, plus hints from
this site
and a quick phone call to my mum to ask about the cheese sauce. It was supposed to be two portions, but the dish I used is fairly large, so it's quite a monster. Will probably eat it tomorrow night, and for the next few nights if it's remotely edible.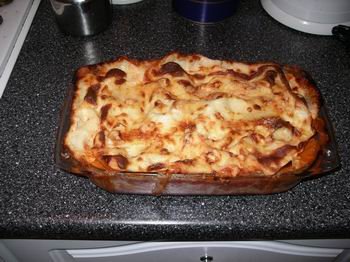 ---------------------------
Tuesday, 11th April, 2006
As soon as I returned home from the tour I shot straight out again to head down to Bromley to help Dickon celebrate his birthday. Far too many pints in the Red Lion were followed by more in the Crown and Anchor, followed by just as many in the Red Lion today. Today I was almost happy to head back to work for a rest....
---------------------------
Monday, 10th April, 2006
Hopefully I can get some photos up soon of the tour, and the report which will be appearing:
here
. Meanwhile
Iain has already posted some photos
.
---------------------------
Saturday, 8th April, 2006
Thursday night I travelled to Aston Clinton for the
Welsh Colleges
Easter Tour. Most of yesterday was spent suffering from last night's excesses, and ringing at various towers around Buckinghamshire. By mid afternoon I was feeling a little better after a pint and a pickled egg.
Today saw more of the same, finishing with me doing not a great deal to help Sue cook everyone a fine meal, and chairing the meeting in Becky's absence.
---------------------------
Friday, 7th April, 2006
Apparently they've had a quote for
Gene Pitney's
Funeral - it will take them two months to make the coffin out of oak, but only 24 hours from balsa.
Apparently I'm
far from the first
blog to make that joke.
---------------------------
Thursday, 6th April, 2006
Bird Flu
So, we've got
bird flu
in the UK at last. I don't really understand how it travels between countries - if I were a bird with the flu, that last thing I'd be thinking of doing is migrating; A few days in the nest would be called for I'd have thought....
---------------------------
Wednesday, 5th April, 2006
As I'll be away this weekend, for the
Welsh Colleges
Easter Tour, and then Dickon Love's birthday celebrations in Bromley, I was trying to find a way of blogging from my phone. The first thing I thought of was an interface a
friend
of mine used called
wapblogger
, but it seems to have demised. As it says,
blogger
offer a
similar service
but only for some US users.
Another way of doing it would be to use the phone to send photos to a
flickr
account which can then be uploaded to the webpage, but my phone doesn't seem to be supported.
So this might be something of a (long) silent weekend from me, unless I can find some other method of mobile blogging.
---------------------------
Tuesday, 4th April, 2006
I rarely allow myself as much time as I'd like for reading - my metaphorical pile of books would be rapidly taking over my lat if it wasn't for it's metaphoricalness. This year I resolved to read a total of twelve books, approximately twice what I managed last year. Only it's April now and all I've managed is two -
"UK on a G-string: Adventures of the World's First and Worst Door-to-door Busker"
back in January, and
"The curious incident of the dog in the night time"
this week.
---------------------------
Monday, 3rd April, 2006
An email came round at work today saying there was an online "Health & Safety" training programme that we all had to complete by the end of April. Most of the modules had any relevance to my job whatsoever, such as 'Driving Safety' and 'Working at Heights'. I wasted twenty minutes completing the section on Food Preparation (for which I got 86% in the test at the end, and a nice PDF certificate to say I'd completed it), after which I received another email saying that there was a glitch in the system, and there were only a couple of sections we need do. Funnily enough, 'Food Preparation' wasn't one of them.
---------------------------
Saturday, 1st April, 2006
A fairly relaxing day today - I rang for a wedding at lunchtime, followed by a few pints in the Farmer's Boy. I wonder if the rumours (which I've been unable to provide a link to) about it being up for sale were just a ploy to make people (like me) frequent the place more often before it changes hands. I could see no sign that it was up for sale, and the beer was as good as ever.
---------------------------