Sunday, 11th December, 2005
I was woken up at 6am this morning by the
explosion at Hemel
which scared the life out of me - for some reason I thought my flat was collapsing. I lay there, still shaken, thinking it was a clap of thunder and wondering why it had scared me so much. I heard the two further explosions which definitely sounded like thunder, and returned to sleep.
I took a photo of the smoke from St Albans Abbey this morning. I could see jets of flames shooting up, too. In the evening the flames could be clearly seen glowing in the darkness.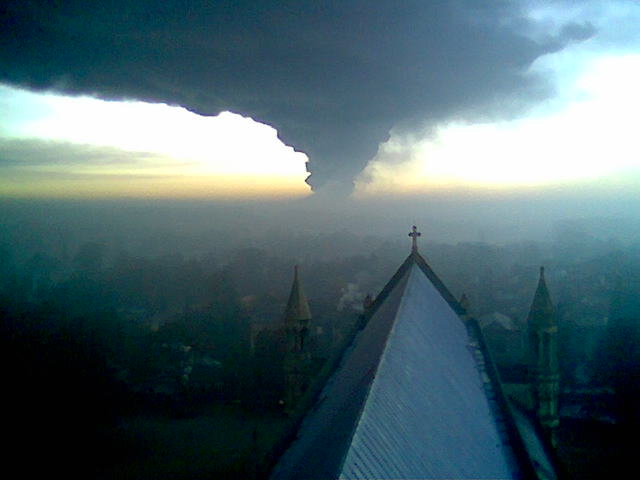 ---------------------------
Thursday, 22nd September, 2005
Peal Tour
From 5th - 10th September I was away on John Ford's annual peal tour, which this year was based in
Leamington Spa
.
Monday:
Spent the morning listening to the
peal of Leatherhead
, and learning methods for the rest of the tour.
In the afternoon we rang Claybrooke S Major at Claybrooke for over an hour or so before a clapper fell out.
Tuesday:
Two peals today, the
Warwickshire
in the morning wasn't nearly as boring as it looked, and had lots of nice music off the front to enjoy.
The afternoon's peal of 8-spliced was stood up by request after about 45 minutes, as the ropes were too springy to achieve good striking on.
Wednesday:
Spent the morning looking around the
Heritage Motor Centre
while a
peal of Rutland
was rung (rather them than me).
I wussed out in the
peal of minor
in the afternoon and rang the treble.
Thursday:
A fairly lazy morning started at 10.30 when we left Leamington to listen to some of the Knowle Surprise Major at Knowle. It had been miscalled shortly before we arrived, though.
After significantly more pottering around and listening to the cricket, I called a
peal of London
at Fillongley in the afternoon.
Friday:
Another two peals for me today, but the four spliced at Monks Kirkby was lost after about an hour of good ringing. An enjoyable
peal of Bristol
followed in the afternoon.
Saturday:
A late night was followed by an early morning in order to settle up at the B&B and be in Daventry for a 9.30 start. My headache didn't stop me enjoying the
peal
, although I could have done without the 3 hour crawl through traffic on the way home!
---------------------------
Wednesday, 14th September, 2005
Updates
A couple of minor updates to the webpage - the webcam has returned, now with the slighly more interesting view from my new flat. You can click on the image to get a (slighly) larger image.
Also, in the box below it, I've added a "Visitor Log" link. This is courtesy of
www.gvisit.com
, which uses
Google Maps
to show where the visitors to this site are based.
---------------------------
Monday, 12th September, 2005
Lake District
From 14th August I visited the lake district for a few days with friends David and Richard. I'd got the day off work for my birthday on the 16th anyway, so rather than spend it sitting at home I thought I'd surround myself with some of the superb scenery the area has to offer.
We ascended fifteen peaks in total:
Sunday: Loughrigg
Monday: Pike of Stickle, Loft Crag, Harrison Stickle, Thunacar Knott, High Raise, Pavey Ark
Tuesday: Wetherlam, Swirl How, Great Carrs, Brim Fell, Coniston Old Man, Dow Crag
Wednesday: Wansfell, Red Screes
I also took quite a few
photos
.
---------------------------
Tuesday, 2nd August, 2005
Welsh Colleges Summer Tour
The
weather
forecast showed rain, thunderstorms, and the occasional plague of locusts, so it was with no surprise that I turned up in Bishops Lydeard to find it raining heavily. I'd stopped briefly on the way at
Stonehenge
, paid two quid to park there and had a look around the perimeter before realising you only get your two quid back if you pay to go in and look around it. I decided I was happy to pay two quid not to have to walk around in the rain, so contented myself with the roadside view before heading off. I'm sure it was more impressive, although further away from the road, when I visited it about fifteen years ago....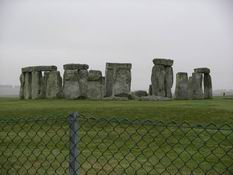 Stonehenge - sort of on the way
Ross turned up just after me and we went off looking for a pub in the rain, only to find the one we were meeting people in was shut. We found one soon enough and managed to sink a couple of pints before more people turned up and we headed up the tower to ring a reasonable
quarter
of Somerset Surprise Major.
The hall was one of the more basic places we've stayed in - there just about room to lay down, the kitchen consisted of a spoon and there was only the one toilet. Still, after a few pints it doesn't matter where you sleep, and you get bed and breakfast for a remarkably cheap price.
On last year's summer tour I'd found the cycling hard even though it was fairly flat, so I'd intended to get enough practice in for this year by cycling 1000 miles during the year before the tour. In typically not-getting-round-to-it style, I'd not cycled a metre in the whole year until we set off to the first tower on the Thursday morning. Although I felt pretty tired a lot of the time, I didn't do too badly, and only had to walk up the particularly steep hills. We went swimming in Taunton on the thursday evening for the chance to have a shower and relax in the pool.
On Friday morning the cycling was the hardest of tour, including several difficult steep hill which needed walking up. I only just arrived at the tower before lunch to have a quick ring before heading down the road to the pub. In the church yeard was a 3000 year old tree. I should have taken a photo of it, not that it looked any different from any other tree.
Tim & Kate organised a great BBQ at their house for us on the thursday night, and I was especially grateful that they let me use their shower!
The next day felt a bit longer to cycle, but was significantly flatter. It rained a lot though, so waterproofs were needed. Somehow my phone survived falling from my bike and landing in a puddle. The striking competition in the afternoon relieved the monotony of '"just another six'. We had a half harted attempt and ringing something strange, and due to this and the failure of most of the bend to set their bells, we came last. One exreme or the other, I say. The next tower provided us with tea and cake which was appreciated more than they could imagine. They seemed quite surprised that the other towers hadn't done the same!
Sunday morning meant getting up early to pack things away before heading our seperate ways, some of us off to Ditcheat to ring a
quarter peal
before heading home.
---------------------------
Monday, 25th April, 2005
New flat

Just four years after it being about time I got a place of my own, I decided it was about time I got a place of my own. The process seems to have happened remarkably quickly, I decided on a price range last Monday, visited a letting agent on Tuesday, saw a place on Friday, put a deposit down on it today. Hopefully I can start moving in by the weekend.
As well as providing photos of the new flat, I'll write updates of how my aquisition of new furniture and stuff is going. Won't that be fascinating?
---------------------------
Wednesday, 30th March, 2005
Only Smarties have the answer
After hearing the
news
that
nestle
are going to change their packaging for
Smarties
so that they no longer had the tops with letters on, I decided I needed to collect the alphabet one last time.
I'd done it before in about 1996, but it had taken me a long time and was a collaborative effort between a few of us. Unfortunately I'd long since lost the lids. This time I wanted to do it all by myself, but as I wasn't too sure when the packaging was due to change, it had to be done quickly. Also - I wouldn't eat a single smartie until I had completed the task - this became harder as the tubes mounted up in my cupboard!
I started buying individual tubes - usually 5 at a time in Woolworths, and then in Wilkinsons as they were 5p cheaper. Eventually I realised that it was easier and cheaper to buy the multipacks of four tubes (105p in Morrisons, 2 for 200p in Woolworths).
I was told by my statistically literate friends that it would take about 100 tubes, asssuming an equal distribution of letters. When I had 90 tubes and all I needed was a 'W' I was feeling somewhat optimistic. However, I was buying more and more tubes and the 'W' wouldn't come. "Can't you just turn an 'M' upside-down?" many people asked - but no, each lid definitely had the 'handle' at the bottom of the letter. Eventually, after a purchase of four multipacks at Woolworths, the 'W' came.
It took 147 tubes in total, at a total cost of around ?40. In case you were wondering, 147 tubes of smarties looks a bit like this: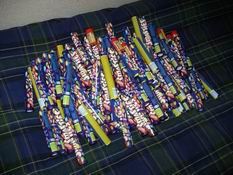 So here it is - the complete smartie alphabet in all its glory, plus "Only smaties have the answer" (it turned out smartie tops are rather difficult to photograph without the right light conditions).

---------------------------
Thursday, 24th March, 2005
More peals
I've updated the peals so it is queryable. You can use
?ringer=
to find a particular ringer
(e.g.
peals.php?ringer=Philip+J+Earis
will list all the peal I've rung with Phil Earis), and
?guild=
to find all the peals rung for a particular Guild or Association
(e.g.
peals.php?guild=Hertford+County+Association
to find all the peals I've rung for the HCA). You can also combine queries, e.g.
peals.php?guild=Ancient+Society+of+College+Youths&ringer=Philip+J+Earis
I've also put in a
statistics page
which I'll be adding more and more pointless stats to in the coming months.
---------------------------
Friday, 4th February, 2005
Peals
I've now added details of all my
peals
(well, almost all of them). There's quite a few errors in there at the moment, I'll be proof reading and improving the page over the next few weeks, but let me know if you find any mistakes.
---------------------------
Monday, 31st January, 2005
Error message generator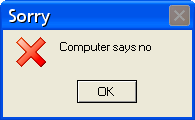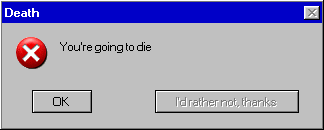 Go
here
to create your own.
---------------------------
Monday, 10th January, 2005
Coming Soon
This website is now well overdue for a few updates, and I thought if I said what some of them are and set myself some deadlines then they'd be more likely to happen!
The
Peals
page is being updated with the full details of all my peals - thanks to the
mysql
database provided by the
aqhost
web package I'm using. I hope to get this up and running by the end of January.
In February I hope to get the
compositions
pages up to date with last years additions, and get them all cross referenced with the peals I rang them to by the end of March.
My Easter project will be either getting the St Albans Pubs page up to a reasonable standard, or removing it completely - the only pub on there has since been refurbished and may be completely different to how I described it.
That'll do for now. My home PC has pretty much died, so there's not much I can do at the moment. I've ordered a new one from
Aria
, so hopefully that'll arrive by the weekend and I can start work.
In the meantime here's the best website I've seen so far this year:
The Infinite Cat Project
.
---------------------------