Monday, 15th December, 2003
Naughtius Maximus
You're a Roman! Beside the Tiber River, you and your people were created by the great Romulus and Remus. Beginning as a small, unheard of town in Italy, your people overthrew their rulers and grew to become the largest Empire known to man.
Which ancient society do you belong to?
brought to you by
Quizilla
---------------------------
Thursday, 11th December, 2003
If you like many others have bought the
2004 Good Beer Guide
, you may have noticed that its
cover
is, well, rubbish.
Apart from the stupid colour scheme - monochrome except for the beer, it looks like they've used a different photo and done a bad photoshop job on it. Notice the way none of the liquid seems level with anything else. Notice the bloke on the right doesn't seem to be holding his pint properly, if at all. Notice that the woman on the left, who seems to have been added as an afterthought, seems to have a "pint" glass of a different size to the others. I bet you could find a picture of these three in exactly the same position holding wine glasses.
All in all, it looks like a vain attempt to make Jehohah's witness city types look like real drinkers.
Well,
IWD
and myself (real drinkers if ever there were any) have produced an alternative front cover, depicting a far more realistic drinking scene. Fell free to cut this out and stick it to the front of your copy: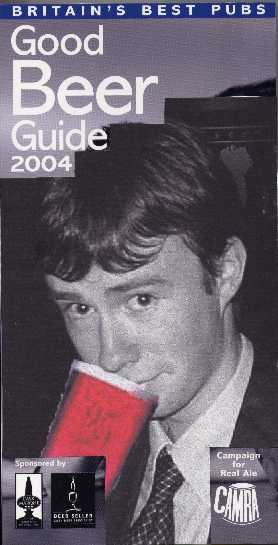 ---------------------------
Wednesday, 26th November, 2003
I thought you might like to know
what was no.1 in the UK charts
on each of my birthdays. Although I don't know why you would be, 'cos I'm not.
0 - You're The One That I Want by John Travolta And Olivia Newton-John
1 - I Don't Like Mondays by The Boomtown Rats
2 - The Winner Takes It All by Abba
3 - Green Door by Shakin' Stevens
4 - Come On Eileen by Dexy's Midnight Runners
5 - Give It Up by KC And The Sunshine Band
6 - Two Tribes by Frankie Goes To Hollywood
7 - Into The Groove by Madonna
8 - Lady In Red by Chris De Burgh
9 - I Can't Stop Loving You by Michael Jackson And Siedah Garrett
10 - The Only Way Is Up by Yazz And The Plastic Population
11 - Swing The Mood by Jive Bunny And The Mastermixers
12 - Turtle Power by Partners In Kryme
13 - (Everything I Do) I Do It For You by Bryan Adams
14 - Rhythm Is A Dancer by Snap
15 - Living On My Own by Freddy Mercury
16 - Love Is All Around by Wet Wet Wet
17 - Never Forget by Take That
18 - Wannabe by The Spice Girls
19 - Men In Black by Will Smith
20 - No Matter What by Boyzone
21 - When You Say Nothing At All by Ronan Keating
22 - I Turn To You by Melanie C
23 - 21 Seconds by So Solid Crew
24 - Colourblind by Darius
25 - Breath by Blu Cantrell feat Sean Paul
Updated 25th April 2016:
26 - Thunderbirds / 3AM by Busted
27 - You're Beautiful by James Blint
28 - Hips don't lie by Shakira
29 - The way I are by Timbaland featuring Keri Hilson and D.O.E.
30 - I kissed a girl by Katy Perry
31 - Never leave you by Tinchy Stryder featuring Amelle
32 - Beautiful Monster by Ne-Yo
33 - Swagger Jagger by Cher Llord
34 - Heatwave by Wiley featuring Ms D
35 - Wake me up by Avicii
36 - Am I wrong by Nico & Vinz
37 - Drag Me Down by One Direction
---------------------------
Tuesday, 11th November, 2003
I bought these off
ebay
last week - possibly the smallest set of handbells in the world!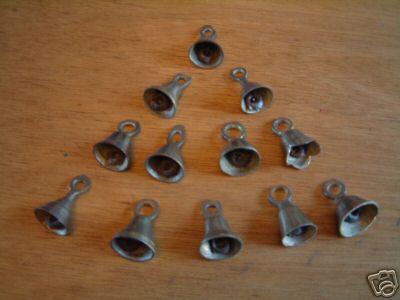 ---------------------------
Thursday, 23rd October, 2003
I thought I'd try to see if I can get a composition to look half decent on here, so here's a date touch for next year:

2004 Stedman Caters
Stephen W Penney
4  5  16  214365879
-------------------
   a      514326879
-------------------
-  -  2   213456879
   -  s   3124
   -  2   2143
-------------------
   b      214356978
-------------------
   -  2   4132     |
   -  2   3124     |A
   -  s   2134     |
-------------------
   c      213465879
-------------------
   A      214365879
-------------------

a = 1,11,14s,15,21s,25
b = 2,9s
c = 2,7s,9s

Start at backstroke with rounds as the first row of a slow six.
---------------------------
Thursday, 9th October, 2003
I wonder if this was one of the 3,634 blogs surveyed by
Perseus - The Blogging Iceberg
which showed that 66% of blogs have been "abandoned"?
---------------------------
Friday, 20th June, 2003
More Games
Online Pictionary
is rather addictive. I was rather proud at winning a game of it, until I realised I was playing a load of primary schoold kids.
3D Pool
is wasting people's time quite a lot, but my PC at home isn't fast enough to run it.
Here's
another game
here's
one for my Welsh friends, and there's loads of other games
here
.
---------------------------
Friday, 20th June, 2003
Coming soon!
My infamous Welsh Colleges 2000 Dinner Romance Officer's speech!
---------------------------
Monday, 2nd June, 2003
---------------------------
Friday, 2nd May, 2003
This weeks top links
If you think you've heard about some very strange people in this world,
think again!
This link and many others from
www.memepool.com
.
If you, like many others, are worried that PTS is missing from the
Visual Method Archive
, you can rest assured that I've heard it on good authority that it (along with all the other treble place methods) will be back soon.
Apparently I'm 70%
snob.
I have no idea what that means....
A friend of mine was sitting, bored, rifling through the Sunday newspapers, and discovered one of those advertising supplements. This had some classic items in it... have a look
here
for the scans of his favourites.
Right, I'm off to play
the sheep game
for the rest of the afternoon.....
---------------------------
Tuesday, 1st April, 2003
Close of Competition
The competition is now closed, and I can now exclusively (of course it's going to be exclusively, I'm the one running the competition) reveal that the answer is that Iain Thompson owns
www.percy.co.uk
, which obviously I'd quite like. I've emailed him to find out, amoung other things, why he's got the website with this name, but haven't heard back from him. So if you're reading this Iain,
email me.
The winner is YAH, who says:
"I'm thrilled, just thrilled, to have won the teastrainer, can you tell how thrilled I am? I'm so excited I can't think what to do with it - but I'm tempted to have it stuffed and mounted. Rest assured it will all be done in the best possible taste!".
So congratulations to YAH. I should also mention Jim and Heather, who both sent in more suggestions than anyone else put together, and both receive a consolation prize of - a mention on this website.
There'll be more equally as exciting competitions in the (probably distant) future.
---------------------------
Friday, 28th March, 2003
Challenge!

To pass the time until the close of my competition, take up my challenge:

---------------------------
Wednesday, 5th March, 2003
Competition Time
Right, as the start of a new effort to write more stuff on this site, I've decided it's time for an exciting competition. This question was originally posted sometime ago (and completely ignored) on the
Ringing Drivel
list. The question is:
Ian Tompson has something I want. What is it?
I've used a variation on the spelling of his name, so that those of you smart enough to use
Google
have a little more work to do. The first few correct answers (however many I decide, maybe only one) to be sent to
competition@ucalegon.com
before the closing date will be the winner, and will receive the fantastic prize of:
a signed tea strainer!
The closing date for this by the way is 31st March 2003. Rules are subject to change without notice. Judges decision is final and all that.
---------------------------
Tuesday, 28th January, 2003
At a severe risk of being geeky:


Which OS are You?
---------------------------
Wednesday, 8th January, 2003
I see the
Central Council
have produced a
page
containing the only two Royal methods worth learning....
---------------------------